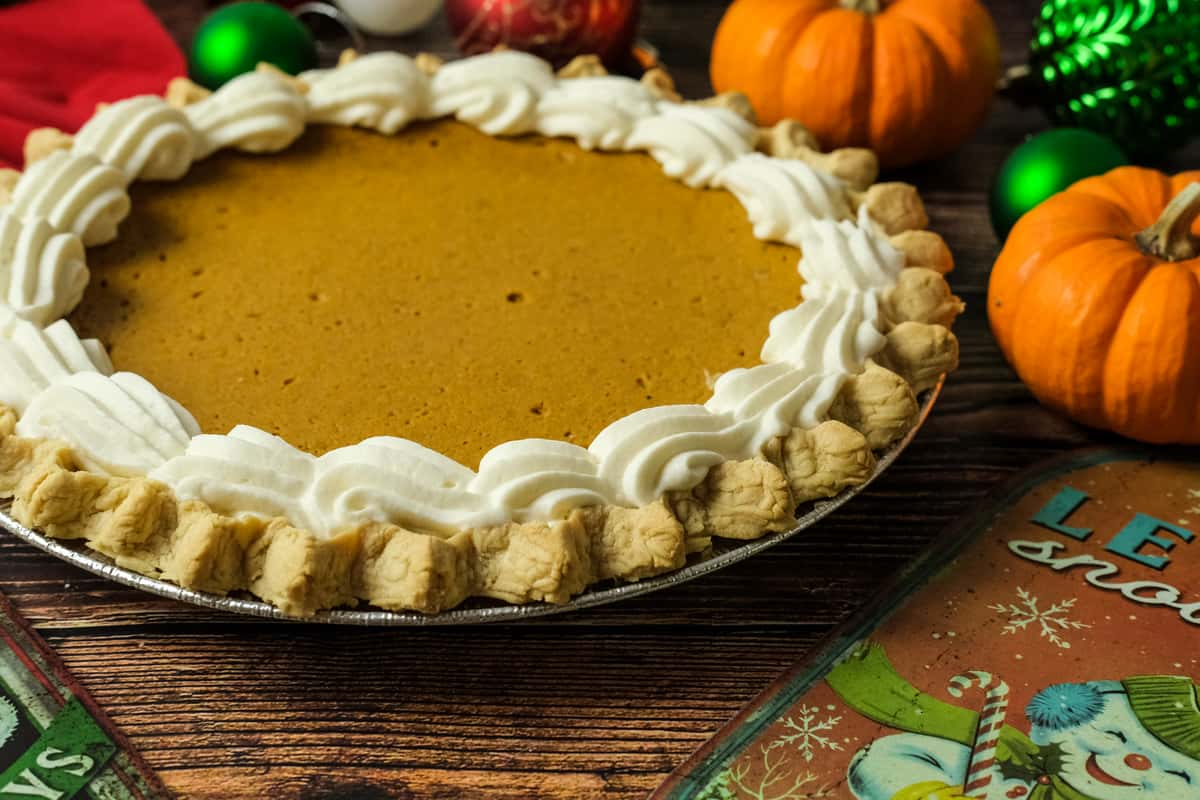 Pumpkin Season
Pumpkin Season
It's hard to believe we're already in November! I like this month for all of its coziness. Evenings in front of a fire with family and good food are what first comes to mind. When I think of this season, I also think of the pumpkin. They sure look nice on neighbors' porches, but they're undeniably tasty, too. There's nothing more comforting than a warm slice of pumpkin bread, a pumpkin muffin with a sweet streusel topping, or a pumpkin pie made from scratch with love.
This month we'll have all that and more at Gabriel's (the pumpkin cheesecake bars are not to be missed!). It'll be difficult for me to stop myself from grabbing something to go for Jim and me to gobble up at home. There are so many creative ways to enjoy pumpkin this time of year. Below I've included a recipe you might not have thought of yet – pumpkin pie ice cream! This recipe came from my friend and our chef for the Second Helpings cookbook photoshoot, Debbie Willyard. It's so easy and delicious. Perfect for making with the kids or grandkids!
Quiet, reflective moments are seldom found after Halloween. Holiday planning, shopping and cooking, along with work, of course, occupy all our thoughts. But as we approach Thanksgiving, especially this year, I want to take time to be consciously mindful of the many reasons I have to be thankful. I am also joyful. When I say I'm thankful for our healthcare system, you will say, of course, we all are. We are living through a pandemic! But I am especially thankful this year after the need for quality healthcare went to the top of the list when Jim had to have a drastic, major surgery to save his life this Spring. It was then I realized how fortunate we are to have Wellstar Hospital right in our own backyard here in Cobb County. The medical teams we encountered were kind, brilliant, immediately responsive, and eager to heal. We are a blessed community.
I hope you can take some time today to think of what you are thankful for, too (and to treat yourself to something pumpkin spiced!). As always, your friends at Gabriel's are here for you. Let us know if there's anything we can do to make your day, week, or month a little bit sweeter.
Fondly,
Johnnie Gabriel-McCann
Pumpkin Pie Ice Cream Recipe
½ gallon vanilla ice cream
1 - 15 oz. can Libby pumpkin pie mix (not pure pumpkin)
1 box of gingersnaps
1 jar of caramel sauce
Allow the ice cream to soften enough for you to spoon it into a 12X9 inch glass baking dish. It should be soft but not completely melted.
Spoon the pumpkin pie mix on top of the ice cream and swirl in being careful to not fully mix it. It should have ribbons of orange throughout.
Crumble the desired number of gingersnaps and stir them into the pumpkin ice cream.
Stir about half the jar of caramel sauce into the ice cream mixture to create a ribbon effect.
Cover with plastic wrap and place in the freezer for at least 3 hours. Remove from the freezer 5-10 minutes before you are ready to serve. Scoop the ice cream into bowls and garnish with whole gingersnaps and more caramel sauce if you like.
Makes ¾ gallon.